Accessible Parking / Elevators
Accessible parking is available, and is located to the east of the SFC Plaza Area and marked with easy to follow directional signs.   Elevators are located on the north and south side of the lobby concourse. The accessible drop off area is located on the southwest side of the facility.
Patrons needing ASL interpreters should contact our administration office at least 3 business days in advance of the event they have tickets for.
Listening devices for the hearing impaired are available at the Guest Services booth.
Accessible seating is sold through Ticketmaster and the Ticket Office. 


Animals
Animals or pets of any kind are prohibited with the exception of service animals for guests with disabilities and/or special needs. Service animals are welcomed into the building and must remain on a leash or harness at all times.


ATG Select Seats
What are ATG Select seats?
ATG Select seats are premium tickets to some of the most popular locations in our venue. Utilizing market-driven pricing, we ensure patrons have direct access to the best seats in the house.
Do ATG Select tickets come with any extras or upgrades?
No. ATG Select tickets are solely tickets to ATG Select seats – they do not include any packages, VIP, or hospitality upgrades to the ticket. Any upgrades available may be added to your order after placing ATG Select tickets into your cart, and will be noted as add-ons or upgrades.
Why are these tickets a higher price than other tickets? Are these re-sale tickets?
ATG Select seats are not resale tickets – they are official tickets being sold for the first time on [VENUE SITE]. ATG Select ticket prices are automatically adjusted in real-time taking into consideration the demand and remaining supply. This helps our patrons have access to the best seats, and enables our artists and live event performers to sell tickets at their fair market value.
ATMs
There are 2 ATM machines located on both north and south sides of the lobby concourse.
Bags
In order to reduce contact with guest belongings and expedite entry into Smart Financial Centre, no bags/purses of any kind larger than 4"X6" are permitted. Medical or parenting bags are permitted at the venue and will be addressed on a case by case basis and subject to search.
Bags, purses, or wristlets that are 4" x 6" or smaller are permitted inside the venue.

ANY bags, purses, or wristlets larger than 4" x 6"  are not accepted inside the venue.

Bags for medical equipment (sized appropriately to the size of the equipment) are permitted, but will be subject to search, i.e. small items like medication need to follow the standard bag policy above.

Diaper/parenting bags (accompanied by infant/toddler) are permitted but will be subject to search.

Following standard safety protocol, all unattended items and bags left outside the gates or within the venue will be removed from the facility immediately.

Bags, purses or backpacks of any kind will not be accepted by Guest Services and you will be asked to take them back to your vehicle.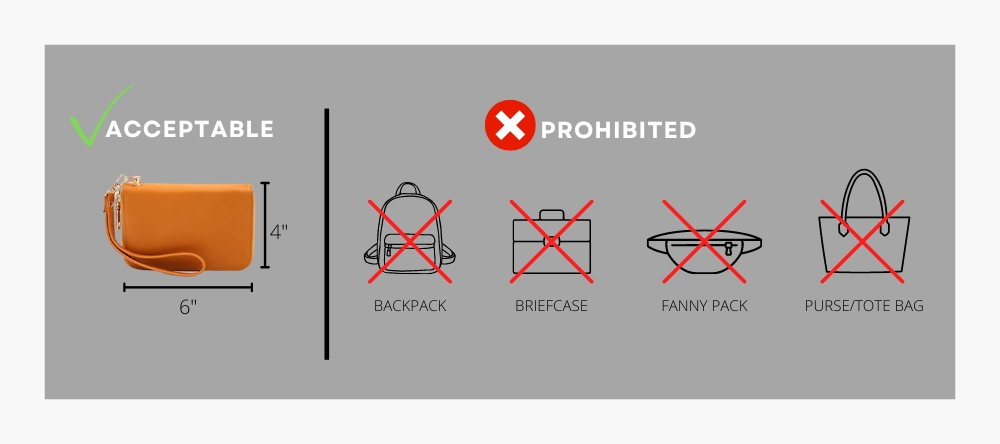 Cameras
Cameras with detachable lenses, audio and video recording devices, tripods and flash photography are prohibited. Small cameras with lenses less than 4" are permitted unless prohibited by the artist. 


Children's Tickets
Children two (2) and older require a ticket, unless otherwise stated.


Doors & Entry
For most events, doors open approximately 1 hour prior to the event start time.
All patrons entering the facility are subject to search and inspection.


Directions
Please visit our Parking & Directions page.


Employment Opportunities
Please visit our Employment Opportunities page.


First Aid
If first aid assistance is required, please notify the nearest Smart Financial Centre at Sugar Land representative so they may escort you to the first aid area. Our first aid area is equipped to handle minor injuries. Automatic External Defibrillators (AEDs) are located throughout the facility.


Food & Beverage
Smart Financial Centre at Sugar Land is proud to offer a variety of food & beverages.
Guests are not permitted to bring outside food or beverage onto facility grounds. 


Group Sales
Please contact our Ticket Office regarding group sales.


Guest Services
The Guest Services desk is located in the lobby, behind the Ticket Office.


Hotels
Please visit our Area Hotels page.


Lost & Found
For lost and found items, please visit the Guest Services Desk during the event, located inside the lobby, or call 281-207-6278 after the event to inquire. Please note that lost and found items are only held at the venue for thirty (30) days.


Parking
For more information, please visit our Parking & Directions page.


Prohibited Items/Activities
In an effort to create a touchless environment, bags of any kind are not permitted at Smart Financial Centre. Medical or diaper bags will be addressed on a case by case basis and would be subject to search.

The following is a partial list of prohibited items that are NOT permitted inside the venue or on venue property:
Firearms

Knives

Weapons or anything deemed a weapon by venue staff

Projectiles

Illegal Drugs, substances, or paraphernalia

Unlawful assembly 

Laser Pointers

Outside food or drink

Cans, bottles, coolers, glass

Noisemakers, fireworks

Banners, signs, posters, flags

Selfie sticks

Laptips, electronic tablets

Drones, remote control devices

Camera, photography, audio and video recording devices 

Strollers

Large bags, backpacks, or suitcases

Pets

Unauthorized pamphlets, fliers, promotional items, sales materials

Unauthorized sales activity or ambush marketing

Tailgating

Bicycles, scooters, skates, rollerblades, shoes with wheels, skateboards, wave boards, lipsticks, hoverboards

Inappropriate attire/clothing

Excessively loud or abusive language and obscene gestures

Fighting, threatening to fight, or throwing objects

Accessing or attempting to access the stage and/or performer/performance areas

Loitering, trespassing, soliciting, and peddling

Centre Management reserves the right to prohibit other items as deemed necessary.
Re-Entry
No re-entry.


Refunds
All ticket sales are final. No refunds or exchanges unless the show is cancelled. Refunds for postponed shows are at the discretion of the artist and promoter. 


Restrooms
Restrooms are located on the north and south ends of the Lobby concourse, north and south end of the Grand Suite level, as well as the north and south end of the Loge level. Family restrooms are located adjacent to these.
Restrooms in Smart Financial Centre at Sugar Land have diaper-changing stations available and are accessible to persons with disabilities.


Smoking
Smart Financial Centre at Sugar Land is a non-smoking facility. Smoking is prohibited within 25 feet of any entrance.


Strollers
Strollers are not permitted in the seating sections. A stroller check service can be found at Guest Services.


Suites
Smart Financial Centre at Sugar Land has 14 private Grand Suites which hold up to 20 people. Grand Suite information can be found on our Grand Suites page.
The Grand Suites entrance is located to the right of the venue.


Tickets
Tickets are sold through our official ticketing partner Ticketmaster.com or in person at the Smart Financial Centre Ticket Office. Resale of tickets is not permitted. All sales are final. Refunds and exchanges are not permitted. Ticket prices are subject to change without notice.
Some shows may require proof of vaccination or a negative Covid-19 test for admission.  Please check on the individual event page on the website for the show you are attending for more information on attendance requirements.
Ticket Office & Ticket Office Service Fee Charges
Please visit our Ticket Information page for the most up to date information.